No one should gun without glasses.
I've always thought my older cousin was a pretty smart guy. He proved this numerous times while we were growing up. On one occasion, he demonstrated his superior intellect while we were shooting our .22 rifles. I had a Winchester Model 61 pump, and he was shooting an old Remington No. 4 Rolling Block.
My cousin noticed I was using Remington Yellow Jacket ammunition. He was curious if his old Remington would handle the hot stuff. He loaded a Yellow Jacket, handed me his rifle and said, "Shoot that can."
I shot the can and immediately dropped the rifle and covered my eye. The ammo was just too hot for the old rolling block. It blew both the hammer and the block back, and my face was peppered with powder burns. It's a wonder I did not lose an eye.
I've heard it said you learn good lessons the hard way, and I did, but I wouldn't suggest anyone else try it. Back then, no one used shooting glasses or hearing protection. My ears have suffered, but luckily, my eyes survived. I won't shoot without eye protection now.
There's no shortage of shooting glasses on the market, priced from a few bucks to more than $100. What should we consider when picking a pair?
Experts say you should focus on three things: the level of protection, comfort and lens clarity.
As for the level of protection, the most common referenced standard with shooting glasses is ANSI Z87. Most shooting glasses on the market meet this standard. It's the same one that OSHA adopted for eye protection in the workplace. Most manufacturers state that their glasses meet this standard, but if they don't or if you're curious about ones you currently have, look for the "+" symbol etched on the lens.
What will the ANSI Z87 standard protect you from with regard to firearms? I've shot Z87 lenses at 45 yards with a 12-gauge shotgun  loaded with No. 5 shot, and the lenses didn't break. So you can wear them with reasonable confidence your eyes will be safe from a blown primer or brass flying from a neighbor at the shooting range.
Comfort is largely a personal matter, but if you wear earmuffs while shooting, the temple bars (the part of the glasses that go back over your ear) can be painful when tight-fitting earmuffs are worn over them.
The other part of glasses that come into contact with your face is the nosepiece. If you already wear glasses, your nose is probably not that sensitive. If it is, you might want to pay particular attention to this detail when shopping for shooting glasses.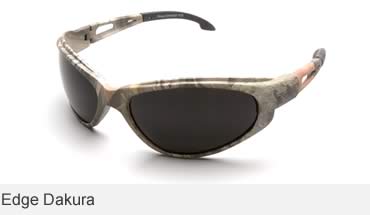 Some come with adjustable nosepieces, and this can help with fit. Others can be worn over prescription glasses. Prescription inserts are an option with some models. Wiley X offers prescription ANSI Z87 lenses for many of its shooting glasses.
Beyond that, lens type and size should be considered. For rifle shooting on the range at stationary targets, I don't mind using glasses that have an individual lens for each eye, if the lens is large enough. Most of the time, and especially if I'm shooting a shotgun at clay targets or doing some sort of action shooting or hunting, I like a single lens with minimal obstructions. For hunting or shooting in foul weather, glasses with a facial seal are the ticket.
As with optics, visual clarity is hard to quantify. For the most part, the more expensive the glasses, the better you can expect visual clarity to be. Lenses for   glasses are just like the lenses for optics in that the good ones cost more. Granted, with top-dollar glasses, you are paying something for the brand name. But  as is the case with binoculars and scopes, those well-known brand names became well-known by offering good products.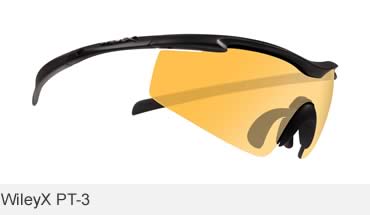 Beyond clarity, lens color is important. For general use, polarized lenses, are a good idea, but are mostly available on more expensive glasses.
For bright days, a smoke tint is fine. On days with a lot of cloud cover, consider going with clear, orange or amber lenses. Glasses with changeable lenses cost more, but are more versatile.
Finally, looks matter, and this will play into your selection process. Looks are a personal thing and may be best summed up in what my 9-year-old said the other day while we were shooting. All I had in the truck was an inexpensive pair of shooting glasses molded from the same clear plastic. I handed them to Bat and told him to put them on. He said, "Dad, these look stupid."
I smiled and said, "You know, you're right. But put 'em on anyway."
Here are some models  to consider.
Edge Dakura Camouflage
Edge makes very stylish eyewear in a variety of configurations. I tested the Dakuras in camouflage and imagine hunters will appreciate the non-reflective camo finish. These glasses weigh only 8/10 of an ounce and were comfortable for me, but the frames are solid and lack an adjustable nosepiece. They meet the ANSI Z87 standard, Put one in your shooting bag and another in your hunting kit.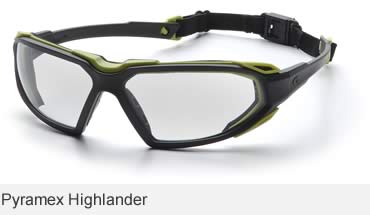 Pyramex Highlander
These were distortion-free and very comfortable. The strap is also a nice feature for those who wear protective eyewear in the field.
A variety of lens colors are offered, and they meet the ANSI Z87 standard.
Remington T-71
Manufactured by Radians, a company that makes a full line of protective eyewear and hearing protection products, the Remington T-71 surpass all ANSI Z87 standards. The glasses I tested had minimal distortion at the far edges of the lenses, but with big lenses like these, you won't likely be looking there. The T-10 version is specifically made for younger or small shooters.
Revision Saw Fly
Designed for the military, the Saw Fly glasses meet the ANSI Z87 and military MIL-PRF-31013 Vo Ballistic Standard. Adjustable temple arms make them very comfortable, and they can be purchased with a single or multiple lenses. Available in two sizes, the glasses weigh just 1 ounce and offer 100 percent UV-A,B and C protection. Prescription inserts can be ordered.
Wiley X PT-3 & Brick
Sporting fogproof, crystal-clear lenses, the top-of-the-line PT-3s come with smoke, clear or rust lenses and are treated with the Wiley X T-Shell Hard Coat to resist scratches. They are available in two sizes, have an adjustable nose bridge, and you can purchase a prescription insert. They exceed the ANSI Z87 high-velocity safety standard and the military MIL-PRF-31013 Vo ballistic standard. And like all Wiley X glasses, they absorb 99.9 percent of incident ultraviolet radiation. The Wiley X Bricks have a more contemporary design and a foam facial seal.
This article originally appeared at buckmasters.com.